I'm sure you've seen by now, but Hey June Patterns recently released their updated Union St. Tee pattern.  The Union St. Tee is one of our FAVORITE t-shirt patterns, and we've made lots and lots of them.  Here is the first one we blogged, and here is the most recent one we blogged.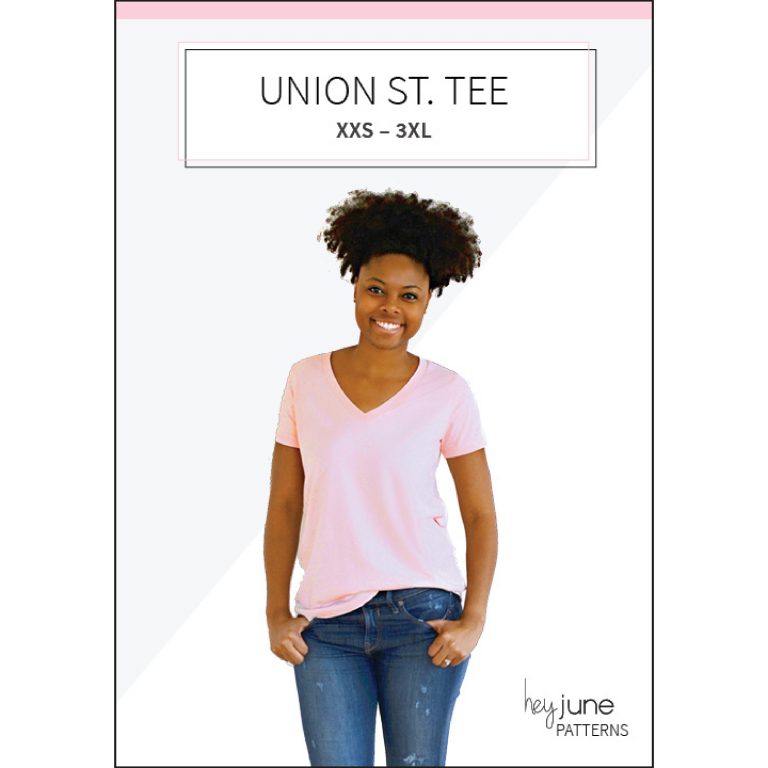 So for the newly released pattern, we were hopeful about a couple of things.  1- the new Union has a more relaxed fit through the waist due to an updated finished garment measurements chart.  2-the new Union has a full bust adjustment piece included.
Just in case the newly updated Union St. Tee was a complete wash out, I decided to refashioned a skirt instead of starting in with the good fabric.  Oh – I forgot to mention, the updated Union also has updated fabric recommendations.  The old version just recommended stretch knit fabrics.  The new one challenges you to improve the quality of your fabric a notch!  You can still use any stretch knit fabric, but the recommended ones are cotton/poly, triblend, rayon blends, bamboo, and modal.  Or you can use cotton spandex and size down for a fitted tee.  And while we're down this rabbit hole, I discovered that sizing down is EXACTLY what I'd been doing!  Yep, I'd been sewing my favorite tee pattern a size smaller this whole time!!!  No wonder I was dissatisfied with the mommy tummy that sometimes made it's presence known.
But back to the fabric recommendations.  Before I'd only used cotton spandex and sized down (accidentally!) for a fitted tee.  For this pink shirt I used double brushed poly, and it worked nicely too.
But because of the updated fabric recommendations, and because I've been hearing so many nice things about bamboo, modal and rayon blends, I really wanted to try one of these fabrics.  And it just happened that this skirt was a cotton/modal blend!  Plus it was too small, so worked perfectly for this updated Union St. Tee "muslin" test fitting.
Let me just say that I should have totally trusted Adrianna, the genius behind Hey June Patterns!  Just like when she updated the Lane Raglan pattern and we tried it out, the updated Union St. Tee is perfection!  The fit (and correct sizing) is so utterly amazing.  I seriously wear this shirt every single time it's clean.  And mum's the word on wearing it sometimes when it's dirty too! But in all honesty, this shirt is boosting my confidence level about the lack of muscles in the waist region…  It skims the chest and loosely floats around the mommy belly.
And for the record, modal is absolutely heavenly to sew with…I can't wait to get into the good fabric now!
For my fellow tall sewing friends, I added 1 inch to the body of the tee at the lengthen/shorten line.  I also added 1 inch to the shoulders.  And finally, I raised the neckline (and shortened the neckband accordingly) by 1" out of personal preference.  I just laid the new pattern pieces over my old ones and traced off these fit changes from them.
Stay tuned for many, many more updated Union St. Tee makes around here!
Also, I promise you a quick and easy tutorial on how to refashion a skirt into a t-shirt very soon.
While you wait, do yourself a favor and go grab the new Union St. Tee pattern.
That link to the Union St. Tee is an affiliate link because we think that it's the greatest thing since sliced bread and you really, really should try it out!  If you click on our link, we might make a few pennies which we will immediately turn around and spend on more modal fabric.  It won't cost you any extra of course.  You've been warned!