Welcome to Denim Week!  This is a super fun week where we're going to cover everything to do with denim.  There's a giveaway, discounts, inspiration, tutorials and much more! 
Denim Week Schedule
Monday, June 25: Denim Introduction
Tuesday, June 26: Denim fabric and supplies
Wednesday, June 27: Denim patterns and tutorials
Thursday, June 28: Denim details (Pockets, tags, topstitching, distressing and all the little ways to make your denim garment special!)
Friday, June 29: Other uses for denim
Okay, so let's get this introduction started!  (The giveaway is located at the end, so be sure to scroll all the way through, it's a good one!)
If you're interested in the history of denim, check out our post here.
This post has everything you should know before you start sewing jeans.
We've got a Pinterest board dedicated to Denim Details here.
For this denim week occasion, I've sewn myself two new denim skirts!  I'm excited to share them with you in full detail.  (The back side of these are the best part, if I do say so myself!)
We would be remiss if we didn't mention that sewing with denim usually means a more complex project.  Which, for beginner sewists, can be quite intimidating.  And we admit that it took us quite a few years of sewing before we attempted these advanced type of projects.  So if you love denim, but are not ready to sew your own, we highly recommend these denim skirts from Style J.
Denim Week Discount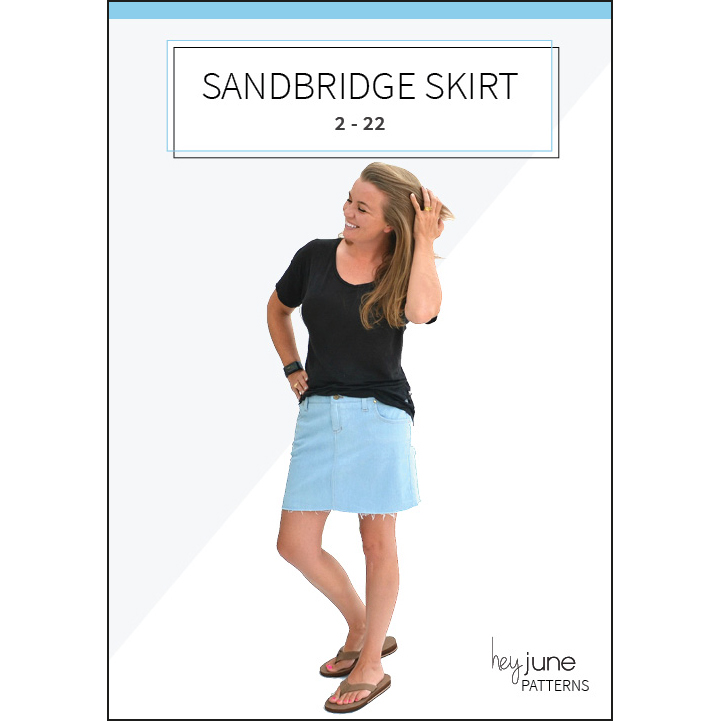 Right now, the Sandbridge Skirt is the featured pattern over at Hey June Patterns, so use the code "Sandbridge15" to get if for 15% off!
Denim Week Giveaway
Currently, Cone Mills denim is the hottest fabric item in the sewing community.  Threadbare Fabrics has some in stock, and is generously offering 2 yard to the winner of this giveaway!
Closet Case patterns is offering a pattern selected by the winner from any of their jeans patterns.  This included the brand new Jenny Trousers and Overalls, the popular Ginger Jeans (in any of the 3 varieties) and the Morgan Jeans.
Itch to Stitch is giving any one pattern from their shop to the winner.  The winner can choose any pattern, but these are the ones that use denim fabric: Danube Jean Skirt, Mountain View Pull-On Jeans, Liana Stretch Jeans, Angelia Shorts, Sequoia Cargos.
a Rafflecopter giveaway
https://widget-prime.rafflecopter.com/launch.js
More Denim Details Inspiration:
We've got a Pinterest board dedicated to Denim Details here.
Day 1: Introduction and Cone Mills Denim Giveaway
Day 2: Giant List of Denim Fabric, Supplies and Resources
Day 3: Giant List of Denim Patterns Classes and Tutorials
Day 4: Denim Details to customize your creation