Today I'm sharing 10 amazing ways to use a Cricut Maker for Apparel Sewing.  This post was sponsored by Cricut, but all opinions are mine.  When Cricut introduced the Maker and it's amazing rotary blade for putting virtually any fabric without a backer, it opened up a whole bunch of opportunities for those of us who love apparel sewing.  So let's get started with the 10 ways to use a Cricut Maker for apparel sewing.
1-Baby Bloomers
Did you know that you can find complete sewing patterns on Cricut Design Space™?  It's true!  I found these darling little chambray bloomers in the Design Space project center and sewed up a pair for my baby quicker than you can imagine!  Bloomers under her skirts and dresses are a go-to garment around here, and this pair will go super well with the little capsule wardrobe I'm sewing for her!
It was super duper easy to sew up these bloomers after the Cricut Maker cut out the chambray fabric and marked the pieces and notches using the fabric marking pen.  Note: the pattern says it is sized for a 6 month baby, but due to the elastic, it's working fine for Baby who is 16 months.  Just note the weight and size.  And we used Baby's measurements for the elastic, not the guide given.  We will definitely be sewing up more of these Simplicity Baby Bloomers!  You can find the project right here.
2-Headband

This darling headband is also a Cricut Design Space™ project.  The only change we made was to use knit fabric instead of felt because we didn't have felt in the right colors we wanted.  But it's sooooooo cute!  You can find the project here.
3-Graphic Tees
This one is a crowd favorite for sure!  I created the patriotic tee above using my Cricut Maker to cut out the Sport Flex Iron On.  Although I do not have an Easy Press, many people report great success with using it to iron on their images to their tees.  You can read more about Annie's outfit and grab that FREE cut file here.
4-Exterior Label Tags
In my recent Denim Week series, I shared two leather and Kraftex tags I created using the Cricut Maker for the back of my denim skirts I sewed.  They add a very classy and special touch to any denim garment.
5-Interior Garment Labels

My friend Tami, from SewSophieLynn, shared how to make custom interior size labels for garments in this post.  Boy oh boy, did I need that information with all the different sizes I have going on around here with 8 kids!
6-Elbow and Knee Patches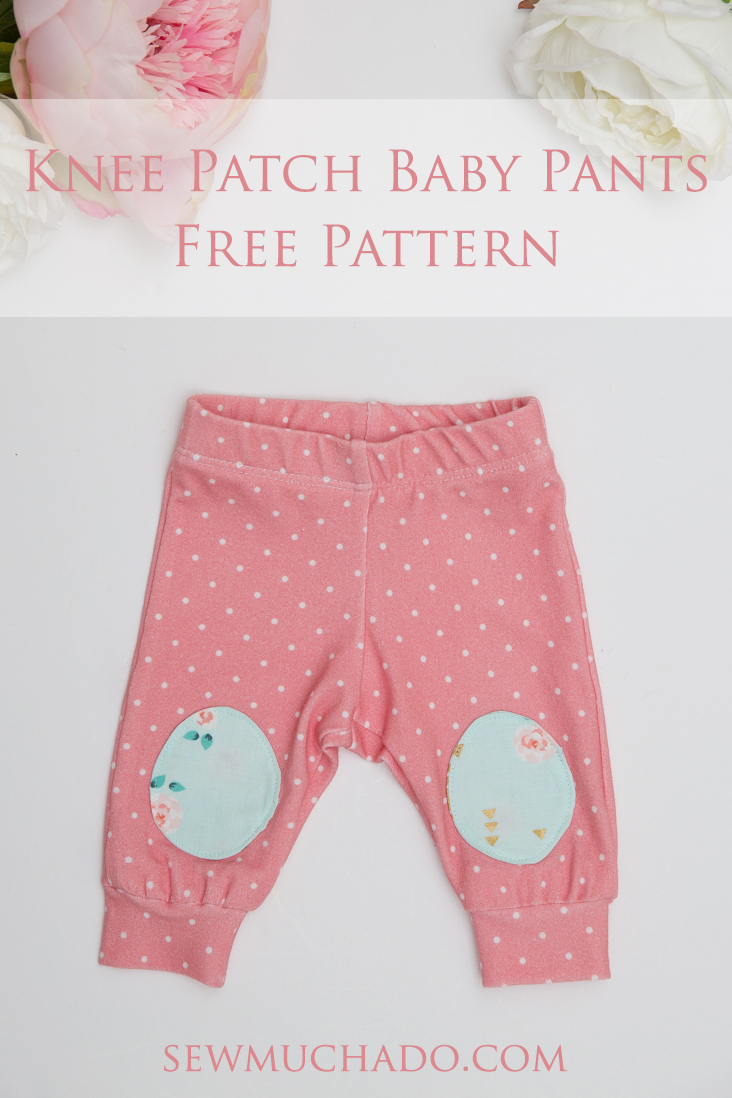 The very talented Abby from Sew Much Ado used the Cricut Maker to add knee patches to her free baby pants pattern that we love!  Read all about it in this post.  You can also use the same technique to add elbow patches…which we love to do too!
7-Day of the Week Underwear
Kari from That's Sew Kari created these perfectly adorable and practical day of the week underwear in this post.  How much more genius can it get?  She used her Cricut Explore Air 2, but of course you can use the Cricut Maker to do the same thing!
8-Removeable Collar
Amber of Amber Simmons used her Cricut Maker to create this fabulous Peter Pan collar.  It's just the cutest thing ever!  We'd use it to layer under sweaters in the winter for just the right touch.  Read more about it in her post here.
9-Baby Shoes
These baby shoes were made with the help of a Cricut Maker!  Aren't they about the most darling thing ever?  This project can be found in Design Space here.  The next person I know who has a baby girl is definitely getting these in their handmade care package!
10-Baby Dress
A complete baby dress for 3-6 months size!  This entire project can be cut out on the Cricut Maker.  Plus all the notches get cut out too, and any markings are marked.  Those are my least favorite parts of the project!  Did you know that you can find over 500+ digital sewing patterns and quilt blocks available from Simplicity®, Riley Blake™, and more (sold separately) through Cricut Design Space™?  And Design Space® software works for iOS, Android™, Windows®, and Mac® too.
If you're considering a Cricut Maker for apparel sewing, these are 10 options to get you started.  And also you might like to know the Cricut Maker offers the ultimate in cutting performance and versatility. Unlike all other cutting machines it has:
Bluetooth® wireless technology
Adaptive Tool System™ for professional-level cutting performance and expandability
Compatible with Washable Fabric Pen for marking pattern pieces (sold separately)
Cuts hundreds of materials, from the most delicate fabric and paper to matboard and leather
The ultimate in professional-level cutting performance and versatility
And more!  Leave us a comment, what apparel project would you sew with a Cricut Maker?
Affiliate links are used in this post to products we use and recommend.  If you click on one of our links, we may make a small commission at no extra cost to you.  Thank you for helping support our small business!
This is a sponsored conversation written by me on behalf of Cricut. The opinions and text are all mine.
http://influencers.tapinfluence.com/assets/cogs/core-v4.js var ts=document.getElementById('ti-pixel-tracker'); var axel = Math.random() + ""; var num = axel * 1000000000000000000; var ti=document.createElement("img"); ti.style.display="none"; ti.src="http://tracking.tapinfluence.com/trk/zngAY/ZrUjM/p.png?p=C6mz4″ + String.fromCharCode(38) + "i=TYDmG" + String.fromCharCode(38) + "ord="+ num + String.fromCharCode(38) + "s=" + encodeURIComponent(document.referrer); ts.parentNode.replaceChild(ti,ts); JSON.stringify({"program_id":"613e0584-7991-11e8-8ef1-0a11af595dac","post_id":"1126f36c-89db-11e8-8b29-0632d5c66a00″});